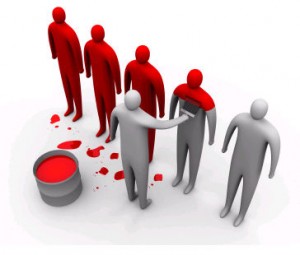 Something has to give. Change is mandatory in our industry, reinvention a must! Every day I see what people are posting about dealerships all over the web. Let's face it, as a whole people hate us. Strong words I know but just look at how our customers are treated. It's not that they are being treated bad in most cases, but indifferently. It's as if we're saying, thanks for the money, I could care less if you come back.
Maybe that's not what you're thinking, but it's what your actions say. A friend of mine and of AutoMax Recruiting and Training, David Johnson, wrote a real eye-opener of a post called, The Worst Dealership I've Ever Seen, Is It You? I suggest you read it.
How do you keep that perception from happening? First, you have to know that itss a top down commitment. Yes, you need the right salespeople, salespeople that get it, salespeople that are self-motivated but it's a fact that even the most motivated people will feel defeated if they are in the wrong environment. That environment comes from you, the GM's, the GSM's, SM's and the DP's.
What kind of culture does your dealership have? Are you screaming at your salespeople in your sales meetings or are you training them how to do their job. Are you pointing out what they are doing right? As a parent I learned that it's much more important to tell a child what they are doing right than it is to tell them what they are doing wrong. Yes, you need to correct your children but how will they ever know what they are doing is right if you don't tell them? The answer? They won't!
So, I encourage you to lead with a carrot and forgo the stick. Here are a few examples of messages sent and messages received:
Manager: "I really liked how you helped your customer move her stuff over to her new car."
Salesperson: Wow, she really does notice the extra work I do around here.
Manager: "Wow, 8 long years huh? Congratulations, we really appreciate your loyalty and all your hard work!"
Tech: I'm in the right place, it's nice to be appreciated!
Manager: "You really know how to work the phones, would you mind talking to the new guy?"
Salesperson: It's nice to be noticed, I am going to get even better so that I can continue training the new people!
Positive reinforcement works, it's part of what makes a winning environment!
Mystery Shop
Do you know what it's like to buy a car at your dealership through the eyes of a customer? If not, you should. Ask a trusted friend to call in and see how they are treated on the phone. Have them pay attention to voice tone and how long they were on hold. Then have them come in as a walk-up and evaluate the salespeople on attentiveness, customer service, and product knowledge. Do the same for the service department and then ask your buddy for their honest opinion. Ask them how they felt during the meet and greet and if they were taken care of in a professional manner. Ask them what vibes they are getting, all this is important and will tell you a lot about what you don't see. Always remember that what happens through the eyes of the customer is totally different from what you see through your own.
Adopting A New Culture
First, share the story. Have a meeting with everybody at the dealership, even the lot guy. I remember being at Sam's Club, eating a salad in their food court, when the guy cleaning the tables looked at me and said thank you for being a member. That felt good! Imagine if your lot guy was out there washing a car when a customer walks by and he stopped what he was doing and gave them a heartfelt thank you, how would that make the customer feel?
So, share the culture. Let everybody in on what you want to do and set up some sort of carrot philosophy. What I mean by that is give employees the power to recommend other employees for customer service well done.
Second, give your employees a voice. Let them know that you want them to share in the culture and give their ideas on what can be done to help create a better environment for both themselves and the customer.
Lastly, educate and energize. A well education sales force will outsell a poorly educations sales force. No brainer huh? It's more than just the knowledge to sell better but employees appreciate training, they appreciate time spent on something that can make them more money. People feel good when they can add to the bottom line and be a producing member of the team. Also, be sure to energize. Training has to go beyond the "this is what you do and this is what you don't do" sort of thing. You must engage the hearts of your employees. You need to influence their values and speak to their motivations.
It All Starts With The Desire To Change
There will be people that are happy with where they're at and no matter what kind of culture changing philosophy you try to instill they won't get it because they don't care. Again, speak to their motivations. Find out what their spark is so that you can turn that spark it a raging fire. Share how things will look if the culture doesn't change and what it will look like when things do change.
Keep in mind that no matter where you are in life or in business that you must pass through a set of filters to get to where you want to go. Passing through those filters you won't be able to take everybody with you, some people just won't fit. Same as with processes, marketing, and attitudes. Things will change and you may have to let somebody go that doesn't fit within the new culture.
What are some things that you can implement to bring on change in your dealership? A change that will bring your more sales, more referrals and more repeats? A culture that will influence positive word of mouth?