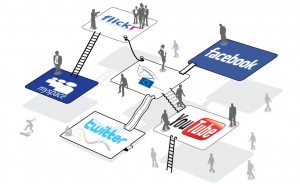 A few get it, most don't. Social media exploded upon the automotive industry without much warning a few years back and because of that, so called "gurus" popped up looking to make a quick buck on the unsuspecting auto industry. Because of that misinformation, dealerships have been hitting a wall...repeatedly. Not anymore and not today!
At AutoMax Recruiting and Training we have partnered with the best social media consultant in the industry, David Johnson. Through our strategic partnership we have created 3 unique packages for auto dealers to choose from, they are:
In-House Training: David Johnson will personally come to your dealership and train ALL of your staff, not just sales, on the strategic use of social media. He will leave you with a complete blueprint for social media success, along with a written social strategy.
Over The Shoulder: In this package David will take a look at what your doing on social networks, on a weekly basis, and report back to you his findings. He will offer both advice and training as needed as well as ideas for contests and promotions.
Full Course: Would you rather leave your social marketing to the professionals? We've got you covered! We will handle everything from blog writing and Facebook statuses to tweeting and contest implementation. For the price of 1 employee you can have a whole team of social media professionals working for you!
As you can imagine space is limited and we can only accept a small amount of dealers into these programs, rest assured though that the dealers enrolled in the above packages will have the competitive advantage.


What People Are Saying About David
"I met David in Atlantic City when he was a featured speaker for AutoMax sales training. I was impressed with the down to earth training and the many ways he had to help dealers. I'am referring him to the dealers I work with. Check David out and you won't be sorry. Best of luck David." Fran Taylor, Automotive Sales Trainer
"David Johnson and Automotive Social Media/Social Networking are synonymous. David is innovative, knowledgeable and an expert in his field. He is always willing to go the extra mile to spread the practice of social networking. His blog, website and online radio show are very informative and helpful, just like David himself! It has been a pleasure getting to know David and following his advice! Thank you David!" Jason Schroeck, BDC Manager Madison Honda
"David Johnson has been a surprise for me on a repeated basis. He has proven repeatedly that he understands the subtle complexities of Social Media Marketing better than most automotive marketing specialists throughout the auto industry. His video tutorials are so well produced that I find myself turning to them and using them to educate my own clients. I wholeheartedly recommend David Johnson because in an area where I would consider myself to be an expert, he continues to teach me new strategies and tactics on a weekly basis." Ralph Paglia, VP Tier10 Marketing
"David Johnson is a rare and appreciated talent. He has been instrumental in helping me understand the overwhelming power of Social Networking and it's ability to further one's business, career and personal brand. He is also a very loving husband, caring father and outstanding human being. He is a trusted friend."  Marv Eleazer, Finance Director Langdale Ford