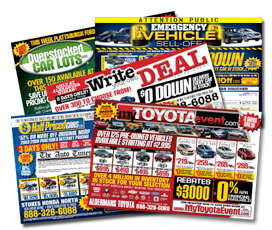 Once again, we've partnered with the best of the best, Troy Spring of Dealer World, for all of your automotive direct mail needs!
This isn't your daddies direct mail either, no way, uh-huh. Troy has developed a way to get buyers in the door, not gift seekers, and to us that makes all the difference in the world.
From Troy Spring:
"We are traffic drivers. We supply Auto dealerships nationwide with PURE buyers. No Gifts, No Gimmicks. No Baloney. Hard driving themes with the technology of powerful lead generating websites are all you need to find real buyers. We are simply the best in the industry at it."
When All You Want Are Buyers On The Lot, No Gift Seekers
Are you tired of seeing dozens and dozens of people pass through your doors with a scratch-off in their hand and a crazed look in their eyes, with the mantra, "I'm not in the market. I don't need a car," playing across their lips? So are we! How about we introduce you to buyers, not gift seekers. And how about we do it right now, allow us to assist you in making your month!
Lets have a conversation about it, let us show you just how that's possible!