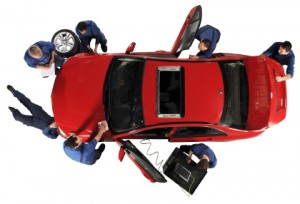 We've created a strategic partnership with the best Fixed-Ops training company in the industry, Auto Pro Training Solutions.
From their website:
It is our mission to strengthen and support Dealership Fixed Operations Departments internationally. Our values are enlightened by our behavior, our culture, our business and our future. The test of our company's values is not what is said, but what is accomplished each and every day. These values help set us apart from our competitors; and make us the leading Fixed Operations Training & Marketing Solutions company that our customers have come to expect and trust.
We deliver uncompromising values. We work diligently with our trainers to ensure that our customers get the "Best of the Best" service training available in today's ever complex market. We use our expertise to deliver innovative, quality solutions and services that help our customers solve their business challenges.
Our trainers and sales staff have a sustainable competitive advantage. We believe that associates lead and leaders serve. We respect one another and encourage all to think about tomorrow's customer with today in mind. We combine our experience and collaboration to create a positive environment that results in high performance and personal success utilizing premier resources.
We maintain the highest standard of integrity. We have the utmost respect for our dealers and treat them with honesty and integrity. We do the right things for the right reasons; not compromising values but delivering excellence through proven processes that deliver increased revenue.
We deliver guaranteed profitability and growth. We execute with a constant focus on profitability and long term success - not short term fixes. We make every decision with the understanding that AutoPro's success depends on the actions of every AutoPro associate.
[hana-flv-player video="http://www.automaxrecruitingandtraining.com/videos/tracey.mp4" width="350" height="250" description="" player="3" autoload="true" autoplay="false" loop="false" div align="center" autorewind="true" /]
If your looking to increase your hours per RO, your amount of up-sells, and the overall profitability of your fixed operations business, then you need to contact us soon us possible so we can stop the bleeding.

What People Are Saying About Jim Bernardi and Auto Pro Training Solutions
"Jim is an outstanding person to collaborate and work with. A truly dedicated and professional businessman, Jim brings to the table a wealth of knowledge and industry insight. I have not only worked with Jim on automotive 20 Group's in the past, but I have also had the pleasure of sharing professional experience via digital social media. Combining 3rd generation automotive experience and quickly making the family name in PowerSports the only road Jim is on is the road to higher success. Jim is a Christian family man with an impeccable reputation in his community as well as for his involvement in many charities and organizations. Top qualities, Honesty, Integrity, Professionalism. I would highly recommend working with Jim if you have not already had the opportunity of doing so." — Bill Goodfriend, Account Executive/Business Development, NCM Associates, was a consultant or contractor to Jim at AutoPro Training Solutions
"Jim Bernardi is one of those people you immediately feel good about on first meeting. He possesses the qualities of sincerity and a personal charisma. Jim Bernardi has the unique ability to dramatically increase the profitability of your fixed operations departments with guaranteed results. I strongly recommend you consider bringing him to your dealership to work with your management at improving profits and processes. An ultimate professional, Jim eats, drinks, and sleeps the retail automobile industry with a vast depth of knowledge and the ability to translate it into profitability for his clients. He and I have worked together on several projects. I have no problem highly recommending him to anyone. I'm supremely confident in his ability to make changes and move the needle on profitability, he guarantees his work...what more could you says? If Jim Bernardi says it...it's going to happen." — Jim Ziegler, CSP, HSG-4000+, President, Ziegler Corporations, worked directly with Jim at AutoPro Training Solutions
"Jim has helped Daimler Chrysler on many projects, with his ability to recognize problem areas' and quickly solve customer concerns. He has proven himself and his services many times over." — Richard Clipp, Daimler Chrysler Director was Jim's client