We're THE Automotive Recruitment Experts
It's Time To Hire The Future of Your Dealership, Before Your Competition Does!
100% Satisfaction Guarantee, We Stand Behind Our Work

We Can Recruit for ANY Position in Your Dealership

We've Recruited and Trained Over 140,000 Salespeople

We've Conducted Over 12,000 Recruitment Campaigns

We're the #1 Most Requested Automotive Recruitment Firm in North America

Complete Turn Key Solution, We Handle it All!
AutoMax Is THE Automotive Recruitment Specialist You've Been Looking For!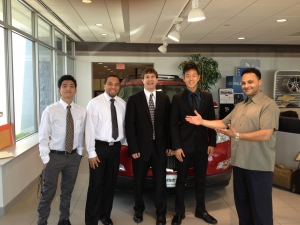 At AutoMax Recruiting and Training we do one thing better than anybody else, we recruit, SCREEN, interview, train and retain the best automotive salespeople in the industry! With over 140,000 salespeople recruited and trained and over 12,000 recruiting and  training campaigns, we have the experience, desire and know-how, to help you sell more vehicles, through the development of top-notch, car sales professionals. If you are looking to take market share and close a higher percentage of your customers, then it's time to contact us, have a conversation and see just what we can do for you and your dealership.
AutoMax Recruiting And Training provides dealers with "Committed, Well-Trained Salespeople, with No Bad Habits", in your market, with our proven, low fee, turn key,guaranteed salesperson recruiting and training programs!
 *Our Services Menu Can Be Found HERE*
After you say YES! We go to work creating killer help wanted ads that just flat out work! Our recruiters then begin to communicate with all respondents to the ads and "sell" an appointment for them to come to your store and interview with one of our Professional Recruiter/Trainers.
Our Recruiter/Trainer will meet with you on the morning of the first day, and of course throughout the week, to gather information on what some of your challenges have been, what you specifically are looking for or not looking for in a salesperson, what type of selling system you have. We conduct what is called "Flex Training," our trainers can adjust to however you run your store or train using our proven system.
The AutoMax Recruiter/Trainer will then interview all applicants via a professional interview to determine who can complete the training and ultimately sell vehicles for you.
The training consists of 3 days of the basic 'Road to a Sale" , role play, tests, homework, shopping your competition, ending Friday of that week with a live presentation from each "graduate" where you will be able to see who is real and…who is not! You choose from whom is left standing that you believe are the best and our Trainer will place the rest.
AutoMax will recruit, interview, screen, train and help you retain these potentially outstanding sales leaders. We also offer a "Full Course Training" option, that can be conducted after that first week, as a affordable option to you, and we have found to be one of the best ways to retain the talent that we trained for you!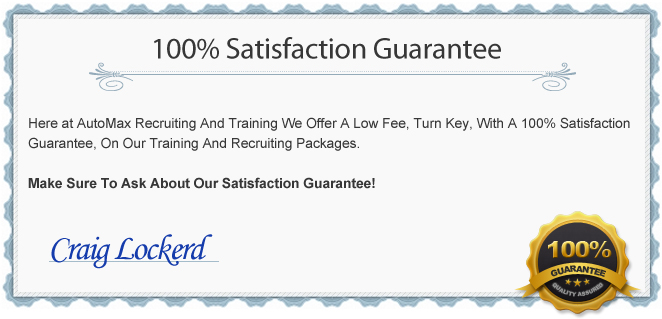 From Porters To Presidents And Everything In Between
Here at AutoMax Recruiting And Training we are automotive recruiting specialists, if you need em, we can get em! Here is just a sampling of the types of positions we can fill.